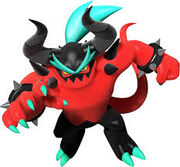 Zavok is the Ringleader of the Deadly Six and the Arch-Nemesis of Kai in Ninjago Pawns of Prohecy. he was really responsible for Kai's comming.
Zavok was once an apprentice of Master Zik and his most favored apprentice and the Ringleader of the Deadly Six. 
He secretly escaped the Lost Hex and faked to be Kai's Father's uncle's cousin's evil roomate and killed Kai's dad and faked to be a Skeleton to signal an attack on Kai's town.
Garmadon Brainwashed him and his kind and made them his slaves until he broke free and fought Kai and revealed to him that he killed Kai's father and was responisble for everything that made Kai a target to Evil. Kai became angry and attacked him and they fought like crazy until Rachel made him Unconsious. it was unknown if he was welcomed a member of his race
He secretly hides with an unknown villain.
Zavok can use the power of Fire like Kai and Rachel.
Zavok can use Hypno Powers.