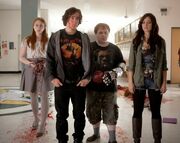 The S.A.N.I.S (Super Awesome Ninja Inlilator Squad) is a speciallized Doom Clan Assault Squad that conists of the 3 most bad guy dilinquints that Garmadon favors.
When his other henchmen in the Doom Clan failed Lord Garmadon creates a super powerful squad used up of his unknown nephew, Rosie (nephew's girlfriend) and Jason Garmadon. he ordered them to destroy the Ninjas from his plans.
Known Members
Edit
Garmadon's minion (Muscle)
Rosie Garmadon (Leader)
Jason Garmadon (Amichure)
Ad blocker interference detected!
Wikia is a free-to-use site that makes money from advertising. We have a modified experience for viewers using ad blockers

Wikia is not accessible if you've made further modifications. Remove the custom ad blocker rule(s) and the page will load as expected.