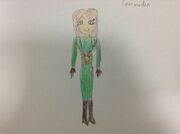 Rebecca Garmadon is the older sister of Lloyd Garmadon and the real green ninja.She has been portrayed in many fan fictions.
Appearance
Edit
She has long blond hair and a humongous green bow behind it.She wears a green ninja suit and weard knee high boots.She sometimes wear a Sailor Scout outfit.
Personality
Edit
She is playful,fast and smart.She likes drawing and she is most responsible of all the ninja.She has a crush on Cole.
Ad blocker interference detected!
Wikia is a free-to-use site that makes money from advertising. We have a modified experience for viewers using ad blockers

Wikia is not accessible if you've made further modifications. Remove the custom ad blocker rule(s) and the page will load as expected.