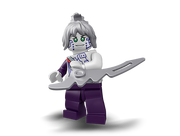 In Shroob12's universe, Pixal is named as Krystal Valkulisv. She is a Female Russian Ninja who allies Zane and plans to save her family from the Doom Clan's evil.
She was a girl at age 8 when she lost her family to a Russian Enterprises and made a half robot/half Human.
She helped Zane go aganst Bad Cop and Major Bludd she makes a cameo appearance tiny toon adventures episode the curse of shirley the loon (2008) (babs' nightmare  sequence)
Ad blocker interference detected!
Wikia is a free-to-use site that makes money from advertising. We have a modified experience for viewers using ad blockers

Wikia is not accessible if you've made further modifications. Remove the custom ad blocker rule(s) and the page will load as expected.