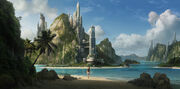 Palmopolis is the city that the ninja currently live in in Shroob12's universe. It's Cole's birthplace and the only city that has a boardwalk that's not in New Jersey. The city is located on a Tropical Island between California and Alcatraz.
Palmopolis was inhabited by a Native American tribe that came from Kinkow, and the chief of the tribe became the founder of Palmopolis city, making it a tropical city on that very Island, calling it Palmopolis. Later on, evil demon people came and placed a dark world portal to free the Overlord, but some colonists came and saved the Native Americans from the demon people and put the portal in an evil coffin. Many Native Americans and colonists became corrupted to free him, forming groups of five throughout many ages with immigrant allies.
Cole was born to Mr. Bronstone with an unknown brother and they were students of the Bobbi Wasabi Dojo since kindergarden.
Cole returned to Palmopolis and found a beach house to house him, Laney, Lloyd, and their allies after they discovered Lloyd as a ninja.
Locations
Edit
Cole's beach House Cole's beach house is the house of the Bronstone family and the HQ of the ninja heroes. It houses them and many of their allies to be safe from Garmadon's evil wrath and not let him know they are around.
Garmatron
Edit
The portable HQ of Lord Garmadon is the home of the Doom Clan. it's techniclay not a rel location since it's a portable fortress that is shaped like a sphere.
Residents
Edit
Cole's beach house
Cole
Laney
Laney's brothers
Cole's older brother
Kai
Jay
Jack
Milton and Jerry
Lloyd
Rachel
Daphane
Lord Garmadon
Lord Business
Bad Cop
Major Bludd
General Kozu (Formerly)
Dan Lewis (Slithraa)
Chris Bradford (Dogpound)
Samukai
R.A.N.K.I.S.S.S
Kruncha and Nuckal
Frakjaw and Chopov
Doom Drones
Kreigstaffebots
Ninjroids
Robo SWATS
Robo Suits
Robo Enginers
Kinkow Island
Edit
Mikayla Makoola
Mason Makoola
Lanny 
Brady Parker
Clarisse La Rue (Ares)
Zavok
Zomon
Zazz
Zor
Zoko
Zik
Toxzon
Cyphron
Captain Metal
Other Residents
Edit
Owner of Pizza Wizza
Manager of Pizza Wizza
Sensei Rudy
Bobbi Wasbbi
Mrs. Brewer
Employers of Pizza Wizza
Fangdam (Usually)
Mr. Bronstone (Cole's father)
Mayor of Palmopolis
Girl on Child Leash
Ad blocker interference detected!
Wikia is a free-to-use site that makes money from advertising. We have a modified experience for viewers using ad blockers

Wikia is not accessible if you've made further modifications. Remove the custom ad blocker rule(s) and the page will load as expected.