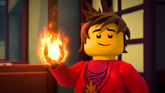 "FIIIIYYYAHHHH!"
This article is a Hot Article! It was one of the most-viewed pages of January 2018!
Mr. E is a villing from the sons of garmadong and is axronix. Sjdjriskhfhfudjdhfbcbdhsiakaksndbdbdjsksksjsjdjdjdjjddjjesjsjsjndnd
No further data
Mr. E used to be Ricky Owens a guy who was one of the original Ninja gang's members, but his real name is Rick Brewer.  He used to ally them in a cave until someone tricked them into disaperence and Garmadon founded the Doom Clan.
Mr. E comes to Help Garmadon on his quest of World domination.