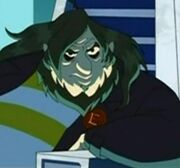 Mr. E is a member of the Doom Clan and the C.E.O of Poopy Corp As Lord Business is owner of the company. He thinks Garmadon is insane. He is Rick Brewer, the father of Jack and Max Brewer and foster father of Lloyd.
Mr. E used to be Ricky Owens a guy who was one of the original Ninja gang's members, but his real name is Rick Brewer.  He used to ally them in a cave until someone tricked them into disaperence and Garmadon founded the Doom Clan.
Mr. E comes to Help Garmadon on his quest of World domination.
Ad blocker interference detected!
Wikia is a free-to-use site that makes money from advertising. We have a modified experience for viewers using ad blockers

Wikia is not accessible if you've made further modifications. Remove the custom ad blocker rule(s) and the page will load as expected.