This character is originally from Kickin' It. But it may be supported with fanon info.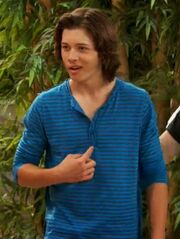 Jack Brewer

Element

Creation

Occupation

Ice Ninja Wasabi Warrior (formerly)

Relatives

Mr. Brewer (Father) Mrs. Brewer (Mother) Lloyd (Foster Brother) Kyra (Girlfriend)

Actor

Leo Howard

Status

Alive
Template documentation
(for the above template, sometimes hidden or invisible)
</noinclude>
In Shroob12's universe, Jack Brewer is the son-in-law of Lord Garmadon and a childhood friend of Cole. He is the new Green Ninja since Lloyd became the White Ninja. He is Lloyd's foster brother and biological brother-in-law.
Jack Brewer, Cole, Laney, Laney's cousin, Jay, and Dan Lewis became friends at the Kick Butt Dojo. Jack was revealed to be Lloyd's foster brother and brother-in-law since he loved Kyria.
He has the powers of Creation.
His evil powers are Darkness.
Ad blocker interference detected!
Wikia is a free-to-use site that makes money from advertising. We have a modified experience for viewers using ad blockers

Wikia is not accessible if you've made further modifications. Remove the custom ad blocker rule(s) and the page will load as expected.