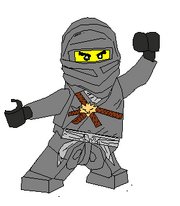 Drew Lynch, after learning of his father, Zane, develops a craving for being a Ninja. He learns Spinjitzu from Jay, Cole, and Kai. He develops a team to fight a new Darkness and save his mother. His element is thought to be Ice but he is later revealed to be the ninja of Ice and Wind. His Golden Weapons are the his father's weapons that he inherited and the Golden Spear he earned.
Drew, at first, is cocky.
Ad blocker interference detected!
Wikia is a free-to-use site that makes money from advertising. We have a modified experience for viewers using ad blockers

Wikia is not accessible if you've made further modifications. Remove the custom ad blocker rule(s) and the page will load as expected.