The double tri scythe is a weapon in Ninjago. It is only found in sets, and is usually carried by Cole.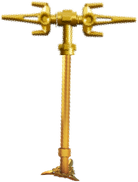 It appears as a Tri-scythe with 2 little strikers, and a shuriken piece at the bottom.
Apparently, it seems that the Double tri-scythe can be also used to hack a vehicle by implementing it into the steering wheel of the object, making it similar to the techno blades.
Appearances
Edit
It was never specified when Cole got it, though it's somewhat hinted at as the first set it appears in is from the Rebooted season, and the scythe plays a similar role to the techno blades.
It apparently is effective against ghosts
It is unknown how someone could swing this without getting torn apart by the shrunken on the bottom.
Ad blocker interference detected!
Wikia is a free-to-use site that makes money from advertising. We have a modified experience for viewers using ad blockers

Wikia is not accessible if you've made further modifications. Remove the custom ad blocker rule(s) and the page will load as expected.