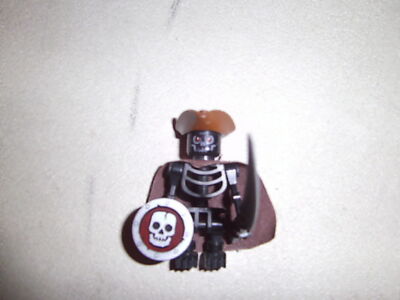 Darkskull was once a great king of a rich and beautiful land. But, when the Skeleton Army laid waste to the land, King Garkel, as he was called, was ran over by a skull truck. He amazingly survived, but only his bones were intact. He then joined the Skeleton Army, seeing nothing else to do. After the apparent death of Samukai, Garkel took over the army and gave himself the name 'Darkskull'. He currently rules the underworld of Ninjago, and will most likely raise an attack on Ninjago.
He uses a shield with a skull on it.
Garkel Pics and building instructions coming soon!! :)
Use these to build Darkskull:

Lego Castle Black Skeleton
Lego Pirates Pirate
Lego Star Wars Jedi Knight
To build Garkel:
Lego Star Wars Naboo Pilot and Jedi Knight
Lego Pirates Pirate
Lego Minifigures Fisherman
Gallery of Darkskull:
Edit
Ad blocker interference detected!
Wikia is a free-to-use site that makes money from advertising. We have a modified experience for viewers using ad blockers

Wikia is not accessible if you've made further modifications. Remove the custom ad blocker rule(s) and the page will load as expected.