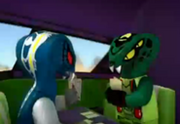 Shale and Neido overlooked a Serpentine gathering. Shale shivered as the cold breeze passed by. Shale and Neido were at the Sea of Sand at night. Neido looked at Skalidor. Bytar noticed and threw his blade. The blade hit Shale in the foot and he fell. Neido slid down and revealed his sword.
Slithraa ordered the tribes to attack. The Serpentine charged at Neido. Skales said" You aren't a General, You don't have the clearanccce to give orderssss!" Slithraa said" Skalessss, If you haven't noticed, your sssstaff is misssssing for a while now" Skales gasped. Slithraa still held the staff. Skales took Bytar's blade.
Slithraa and Skales were fighting now. Shale couldn't fight with his injury. Neido told Shale to alert Nya to come over now. Shale tried to contact Nya, but couldn't get a connection. Neido contiuned to fight the Serpentine. Mezmo and Rattla took two blades and started to join the duel between Skales and Slithraa.
Skales hissed at Mezmo. Mezmo dropped his blade. Spitta and Mezmo looked around. Rattla fell over Mezmo's blade, leaving Skales and Slithraa fighting. Mezmo and Rattla left and went to the Tour Ninjago bus. Fang-Suei and Snappa made the bus a Serpentine bus. The passengers all left. Fang-Suei and Snappa drove away while Mezmo and Spitta played cards.
Shale and Neido had to retreat. Many Serpentine got aboard the Serpentine bus and left down the road to the City of Ouroboros. Shale was healed and The Ultra Dragon went to pick them up.
Skales and Slithraa stayed behind and they were still dueling. Slithraa took the Hypnobrai Staff and hit Skales in the tail with it. Skales was starting to freeze. Slithraa remembered that the Hypnobrai Staff could freeze their opponents. Slithraa walked away. Skales' tail was frozen. Slithraa defeated Skales. It wasn't in the Slither Pit, but he still defeated him.
The next time Slithraa would fight Skales will be in the Slither Pit....
Ad blocker interference detected!
Wikia is a free-to-use site that makes money from advertising. We have a modified experience for viewers using ad blockers

Wikia is not accessible if you've made further modifications. Remove the custom ad blocker rule(s) and the page will load as expected.