70728.5 Nindroid Ambush is a collector set. It contains 4 Nindroid warriors, 1 Nindroid Drone, Min-droid, Cryptor and Cole with the Double tri-scythe. It is found in a Polybag.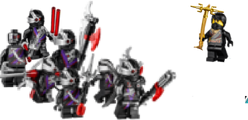 Description
Edit
Do you feel you don't have enough Nindroids? Then Get this set!
Lead the Nindroid army to Victory as General Cryptor
Or, if you prefer, Destroy the fleet of robots as Cole!
Ad blocker interference detected!
Wikia is a free-to-use site that makes money from advertising. We have a modified experience for viewers using ad blockers

Wikia is not accessible if you've made further modifications. Remove the custom ad blocker rule(s) and the page will load as expected.